Writing first post on how important a child growth from a day 1,most of us never ever aware of these crucial stages of a child growth.I try to outline some of the important things in this post which i felt very important to shape your child growth and development.
For a Women "The most magical day of my life was the day I became a mother"
The Day Baby born, Learning process starts.Evidence from neuroscience shows that over 85% of a child's cumulative brain development occurs prior to the age of 6, indicating the critical importance of developmentally appropriate care and stimulation of the brain in a child's early years to promote sustained and healthy brain development and growth.
A child need proper care and stimulation to the brain in a child's early years to promote sustained and healthy brain development and growth.Excellent care,nutrition, physical activity, nurture,and social environment.
Understanding a Child Growth is very important for Parents,especially Mothers.
A child learns mother tongue language quickly at the age of 0-3 years,family members are role model for a child, it observes,behaves and copy the way each members in family will do.A family having Grandparents,uncle,aunt,sister and brother, here child learn much faster then being with only parents. Each member cares child different way and child also learn and grasp important concepts while spoken in mother tongue language.A Child has extremely flexible capacity to learn multiple languages,between the ages of 2 and 8 years.
According to recent study Children learn languages extremely quickly when immersed early. A Study conducted and found multilingual children around the world learns faster and have be placed better in life than those who are uni lingual. It enriches them intellectually and culturally,
and allows them, throughout their lives, to think in more than one way.It also equipped them with structures of expression, vocabulary, phrase, and literature of more than one language.
A child life starts to Develop and shape from Day 1 to age 6,In this period, Parents,family members and Teachers play important part in molding the child.Parent should always be next to the child,as this helps to understand them and motivate right way.
Brief overview of How to Shape Your Child Growth and Development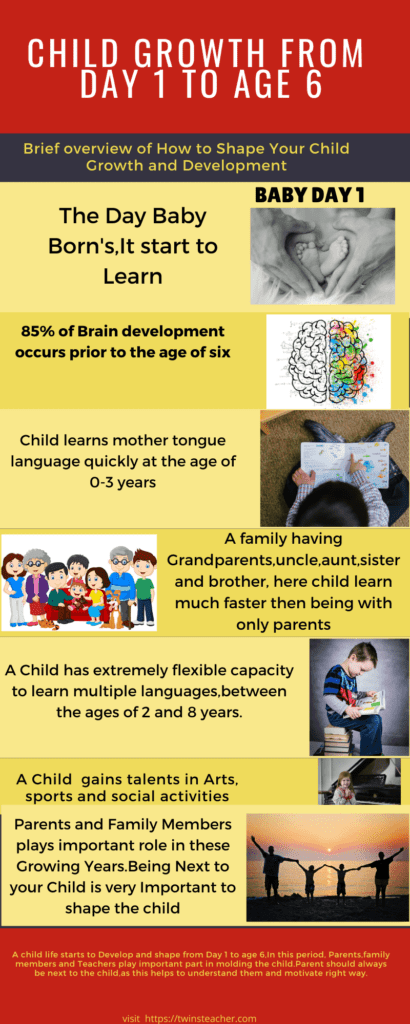 If you have suggestions and feedback. please comment or contact me